Click on any images above to link there. 






Recall of Welsh Chunky Piccalilli because of undeclared mustard.


If you have bought the above product and have an allergy or intolerance to mustard, 
do not eat it. Instead, please return it to the store it was purchased from for a full refund.


https://www.food.gov.uk/news-alerts/alert/fsa-aa-02-2022 
https://www.anaphylaxis.org.uk/allergy-alerts/mustard-alert-welsh-chunky-piccalilli/
https://www.allergyuk.org/news/welsh-chunky-piccalilli/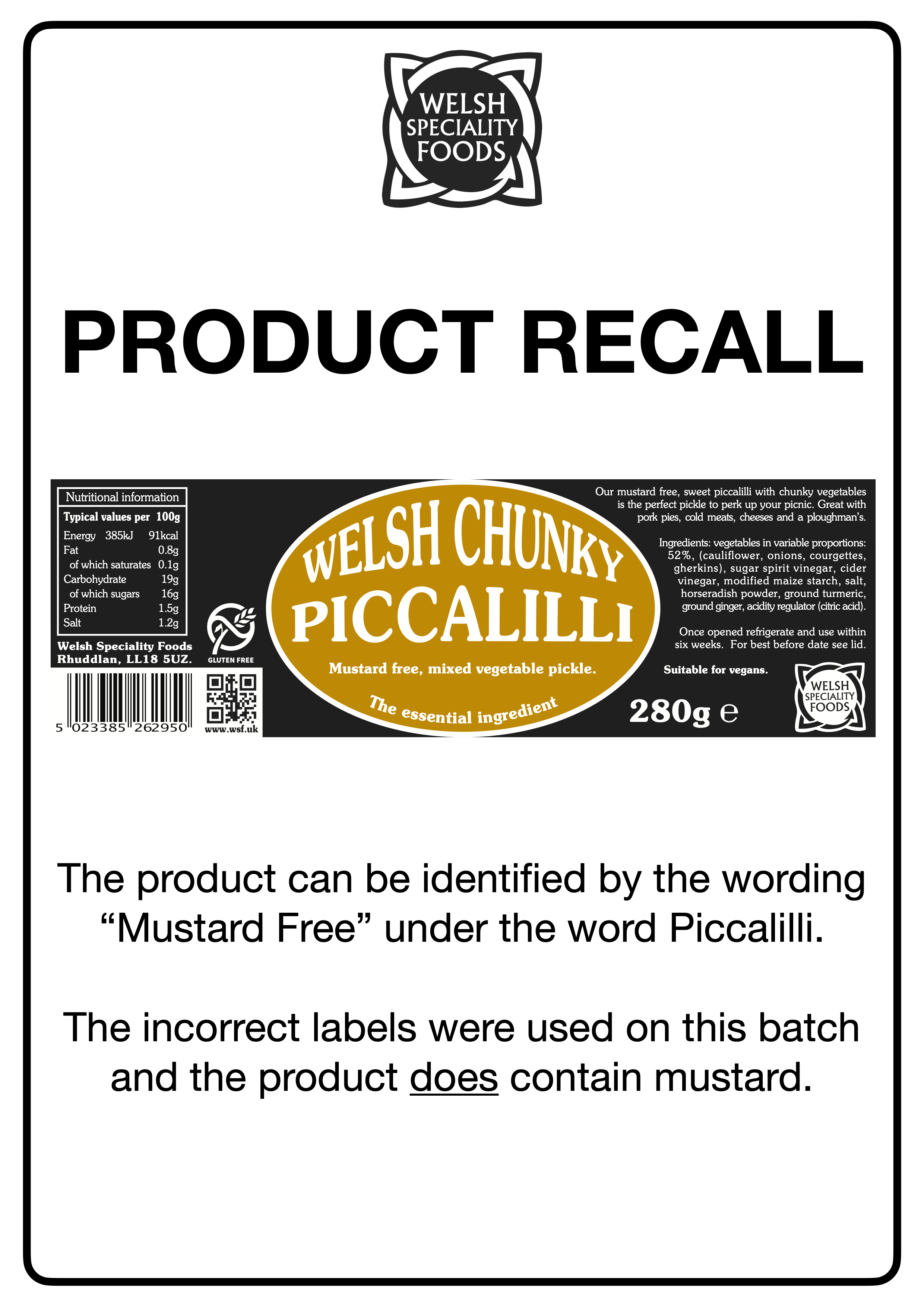 A little bit about us...
Welsh Speciality Foods is a family business, now run by the second generation, with a philosophy of sourcing quality ingredients and using traditional recipes to provide wonderful products. We're a small business with a big heart.
Our award winning handmade ranges are made in honest traditional ways using copper-bottomed pans and in small batches to achieve the highest of standards. There are no compromises only the best goes into our jars. Our extensive product list includes marmalades, conserves, honeys, chutneys, mustards, savoury jellies and sauces.
We hope there is something for everybody, whether it's our luxurious Welsh Honey Marmalade, our natural Welsh Apple Chutney or our extra hot Chilli Jam.
We endeavour to promote the wonderfully strong culture of Wales and have developed relationships with other Welsh companies. We have linked with two of Wales brewers to develop our Ale Mustard (containing The National Ale of Wales: Felinfoel's Double Dragon Ale) and our Welsh Ale Chutney made with Tomos Watkins' Cwrw Idris wonderful brew.