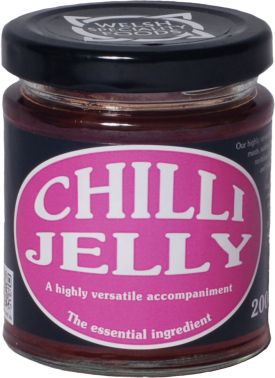 DESCRIPTION
Try our handmade Chilli Jelly with fish fingers or combine into your fishcake mix for some extra zing. It works great over hot potato wedges or spread on sandwiches for some extra spicy depth. A spoonful will revitalise your cheesecake topping (best tell them first!) and it's simply delicious with roast chicken.
If you like things a bit hotter try our Scotch Bonnet Chilli Jam for a real kick.
WEIGHT
200 g
Ingredients: sugar, water, red peppers, cider vinegar, chillies (1%), gelling agent: fruit pectin, acidity regulator: citric acid.